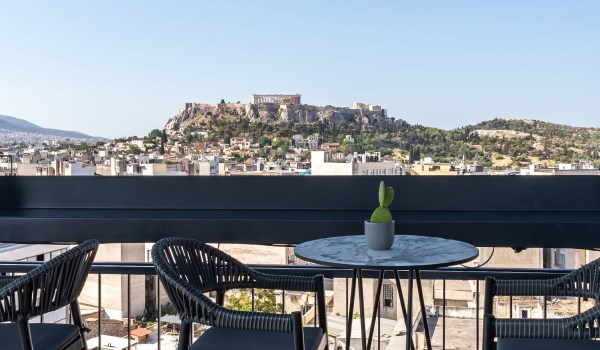 PLAY Rooftop Bar
Located on the roof of the PLAY Theatrou Hotel, the PLAY Rooftop bar is an intimate space featuring stunning city views and an electrifying atmosphere.

Our bar is a long-known Athenian destination for tourists and locals alike.
Envision yourself immersing in our rooftop jacuzzi, sipping on our signature margaritas as upbeat and lively music sets the rhythm.

Feel the breeze on your skin while enjoying the glittering lights of the Acropolis shining in the distance.
The lobby
Athens can be overwhelming, we know. With an unimaginable wealth of restaurants, sites, bars, shops, and concerts, life can be tricky!
So that you can rest between events, take a break in the Lobby.
Sit down for a relaxed conversation and get tips from our team; They can be a valuable resource for secret places only locals get to know.

Do you have to show that you work? Comfortable workspaces are available.
Open between the hours: 16:00 - 23:00.

You are welcome.